Looking Back and Forward as 2024 Approaches
Since the pandemic threw the semiconductor supply chain off balance in 2020, OEMs and suppliers have kept a finger on the pulse of the market. The global chip shortage left many manufacturers, from consumer electronics to the car industry, scrambling to find the needed IC components. The imbalance between supply and demand across sectors remained unpredictable in the aftermath of the pandemic as a result of different geopolitical challenges and economic uncertainty/inflation. With a supply chain as complex as the chip industry's, there are no quick solutions.
The past years have taught procurement specialists and engineers that they need to build resilience into their sourcing strategies to stay ahead. Several reports predicted the challenges in the semiconductor supply chain will lighten up by the end of 2023, and supply and demand will be stable again. Did that prediction hold up for the memory chip market? Can OEM procurement sit back and relax? Or how can they stay ahead of the game?
Upward trend
The memory chip imbalances resulted in customers stocking up, and then depleting their own inventory through 2022. In 2023, DRAM and NAND supply balanced and prices stabalized again as the oversupply that emerged after the pandemic got leveled out. An upward trend in prices for memory components is expected through 2024 driven by a demand increases and a supply shift to manufacturing next-generation components for mainstream markets, according to Yole Group. TechInsights and SEMI observed similar trends in their Semiconductor Manufacturing Monitor: The memory chip market is projected to log double-digit growth through 2024. All segments of the IC market are expected to increase year-over-year in 2024, including harder-to-source memory components for embedded applications.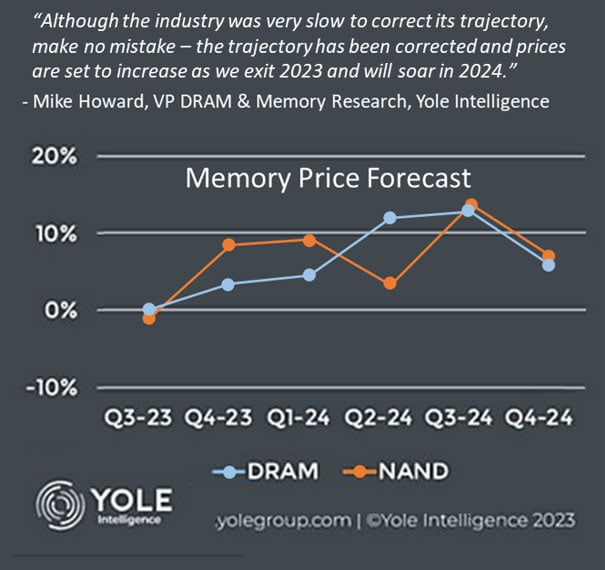 Automotive and AI
Securing your semiconductor chip supply sooner rather than later can get you ahead of the curve. Product development and procurement teams globally, especially those in long-life applications, cannot sit idle and should revisit their memory chip sourcing strategy and supplier network. At the end of August, for example, Volkswagen announced that it is partnering with ten semiconductor manufacturers to get a better grip on their chip supply chain. The automotive industry, boosted by the surge in electric vehicles, is in fact one of the prime reasons for the projected DRAM market growth in the coming years beyond 2024. Additionally, the DRAM market is going through a transition. DDR5 has gone mainstream and manufacturers are converting DDR4 and legacy DDR3 capacity to service DDR5 demand. Memory chip suppliers are also already seeing that the surge in DDR5 demand for applications related to artificial intelligence and machine learning, which call for significant computing power and cloud storage, is making a dent in the supply chain outlook.
A resilient memory chip supply chain Big picture, the forecasts of the market conditions turned out valid. Experts in the field believe the rapidly increasing interest in new technologies will cause shortages in specific pockets of the market for DRAM and NAND. As the market is turning, OEMs need to continue to center their supply chain strategies around multi-sourcing, qualification of alternative components, and working with trusted suppliers to stay ahead. For procurement specialists and engineers who develop applications that rely on mature memory chip technologies, navigating market shifts is easier when working with a supplier who pretty much does that for them. Since our launch a year ago, SMARTsemi has focused on being a reliable and easy-to-use source of DRAM and NAND components for long-life applications. Don't miss out - start 2024 in good shape with SMARTsemi. And stay updated through our newsletter, product alerts, website, and blog.
Subscribe to SMARTsemi's Blog Posts

Subscribe
Need a Reader? Select your Browser and Install.